Brand Highlights–Mishima Basketry
・The area's long history of woven handicraft: basketry for fishing and agricultural use has been traced to the prehistoric Jomon period
・A colorful calendar of festive rites and rituals honoring the old ways
・A community of artisans in tune with seasonal cycles, living off the land and crafting works of all-natural materials
The town of Mishima in western Fukushima prefecture lies in an area known as Oku-Aizu, where the old mountainvillage traditions of the Tohoku region still hold sway. The Tadami River runs in a rushing torrent through these highlands; in winter the area receives heavy snowfall of up to 2 meters.
Amikumi-zaiku, or plaited basketry, is the local craft. About 10 percent of the town's 1,600 residents weave baskets, sieves, cushions, and other items, turning locally sourced plant materials into functional designs of simple, uncontrived beauty.
Each autumn these weavers fan out into the hills to gather their materials: yamabudo crimson glory vine, matatabi silver vine, and hiroro sedge. They cure and dry these gifts of nature and then devote the snowbound winter months to their weaving.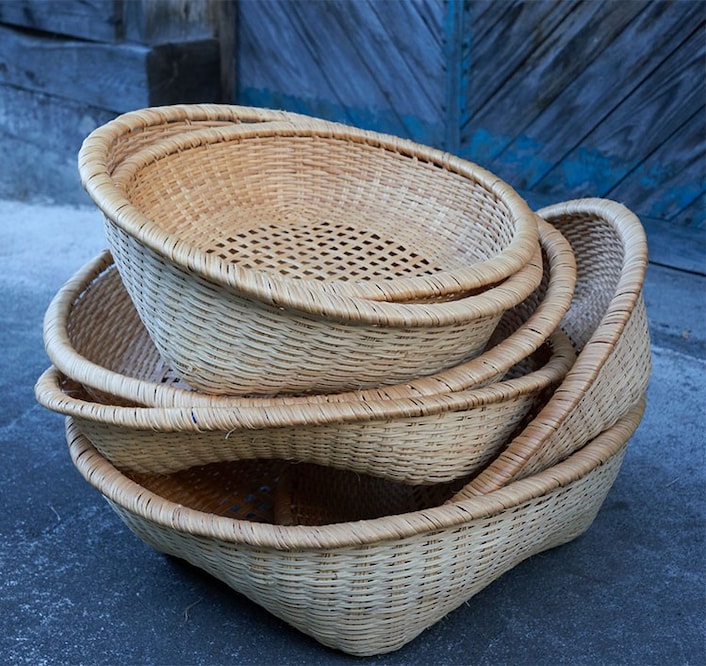 In the local dialect these basket weavers are called kojin—"makers of things." Few Mishima residents engage in amikumi-zaiku as their livelihood; many turn to it as a post-retirement pastime. They report happily on how they become absorbed in the work. Following the whims of their creative muse is a satisfying way to pass the long winter months, they say.
Mishima's kojin use their works in their own homes, give them away as gifts, and display them at the living crafts center in town, where they are also sold.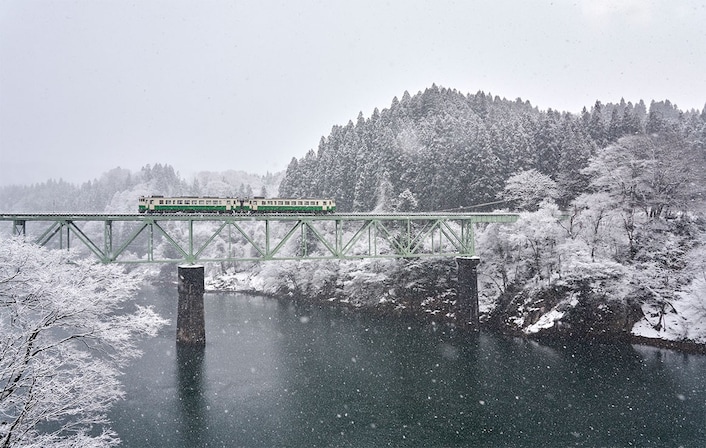 The craft tradition of basketry is nearly as old as these Oku-Aizu hills. Beautifully plaited fragments of amikumi-zaikunthat are believed to date back 2,400 years have been unearthed in Mishima. From the outside, the slower pace of life, in step with the cycle of the seasons, makes retire- ment here look attractive indeed.
Symbolic rites to honor mountain deities and various ceremonies related to farming are still faithfully observed by Mishima's citizens. As with many rural communities in Japan, depopulation is a pressing concern. Residents of Mishima welcome young people with a desire to relocate and help carry on its traditions.
At two places in town the Tadami Railway crosses the river on a pictur- esque bridge. Visitors and photography buffs come from near and far to capture these Instagrammable scenes.
Please refer to the Story Book for more article.