The Japanese government named the amikumi-zaiku basketry of Mishima a Traditional Craft Product in 2003. But the movement that led to this recognition began two decades earlier, in 1981. Amid concerns about depopulation, then mayor Nagao Sato identifi ed monozukuri—the art of making things—as a way to both preserve the old mountain ways and stimulate the local economy.
Subsequent projects to boost interest in monozukuri, including the 1987 launch of the Kojin Matsuri crafts fair, inspired more and more Mishima residents to take up basketry, a swell of interest that eventually prompted the government designation.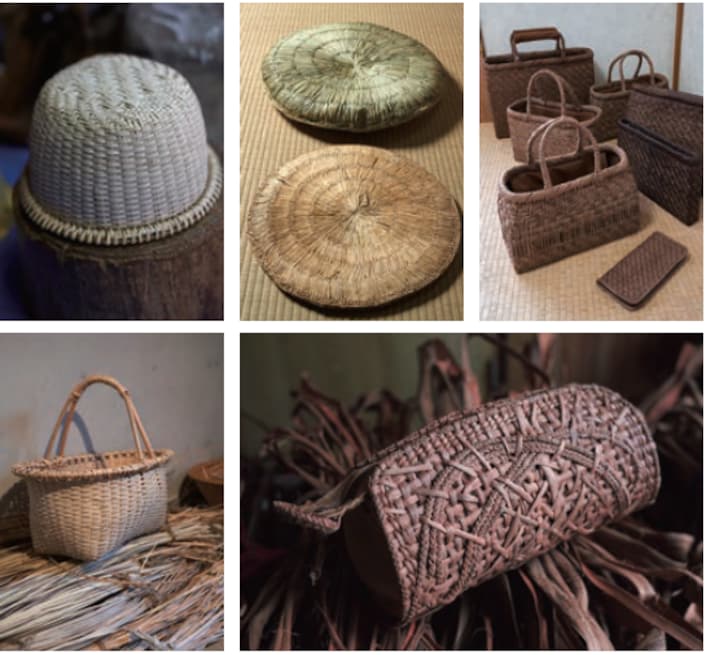 It would be misleading to suggest that amikumi-zaiku has since developed into a full-fl edged local industry. On the contrary, for the residents of Mishima the point has rather to do with deepening one's enjoyment of life. What better revitalization scheme could there be than the very joy of living itself? At the end of the day, it's this attitude that will do the most to keep the old ways intact. The fact that 10 percent of its population are kojin is one of the most valuable assets this spirited mountain community has.
Visit Mishima and you will see handmade basketry everywhere. Neither decorative pieces of art nor casual souvenirs, they are living works of natural beauty, used and appreciated daily.
Women of Mishima model
amikumizaiku
bags and baskets. Most of the residents shown here are
kojin
, although the pieces they hold may not have been made by their own hand. Yamabudo baskets and hiroro bags are as natural a part of the landscape here as the fields and trees that are their source.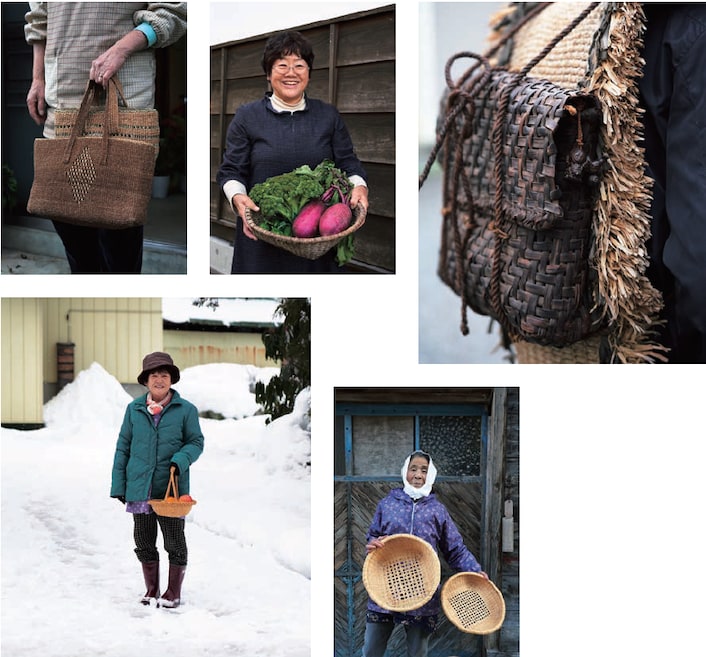 In the olden days amikumi-zaiku was a winter activity performed when the rural settlements were snowbound. People used those long months to fashion the household tools and other implements they needed for farming and working outdoors—thus the emphasis on functionality. The woman at bottom right is holding two matatabi silver vine baskets made with a yotsume cross pattern, a basic weave that's strong and durable and well suited for the handling and storage of produce. The photo above that one, at far right, shows a yamabudo rucksack made 100 years ago for use in the mountains. Its well-conceived cord design, handy size, and simple beauty are clearly evident.
Please refer to the Story Book for more article.