Based in the resort region of Hakone, Hakone Maruyama Inc. (箱根丸山物産・Hakone Maruyama Bussan) specializes in making Hakone yosegi zaiku (寄木細工), a form of marquetry dating back to around the year 1830.
Works of yosegi zaiku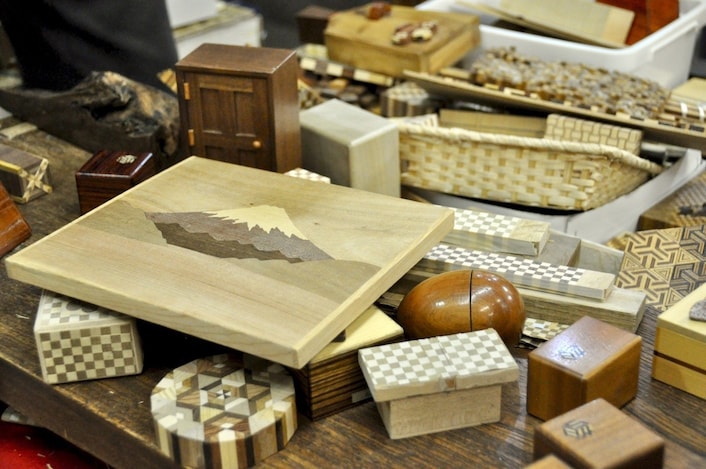 Works of
yosegi zaiku
are typically basic boxes or puzzle boxes (秘密箱・himitsu-bako) with various secret chambers that require very specific and elaborate patterns of movement to open. The craft is distinguished by a wooden mosaic pattern on its exterior surfaces, and although it may seem that the pattern runs all the way through, it's actually just a thin layer glued to the exterior of a finished box.
Hakone Maruyama's main store, located just down the street from the reconstructed Hakone Sekisho, sells dozens of varieties of yosegi zaiku boxes and delightful himitsu-bako (puzzle boxes). A traditional himitsu-bako is faced with small slats of wood that must be shifted in a precise order before the box can be opened. The simplest may require just four such movements, but more elaborate boxes may need seven, 10, 12 or even 72! The most complex himitsu-bako the company has produced requires a staggering 1,536 movements to open!
More modern trick boxes (からくり箱・karakuri-bako) offer less intricate but equally challenging mechanisms: a door-shaped box that will confound you until you realize it opens backward; an egg-shaped box that can only be opened by smacking it in your hand so the interior magnets disengage; a box that can only be opened after a magnetic polar bear walks across a horizon created by using different-colored wood.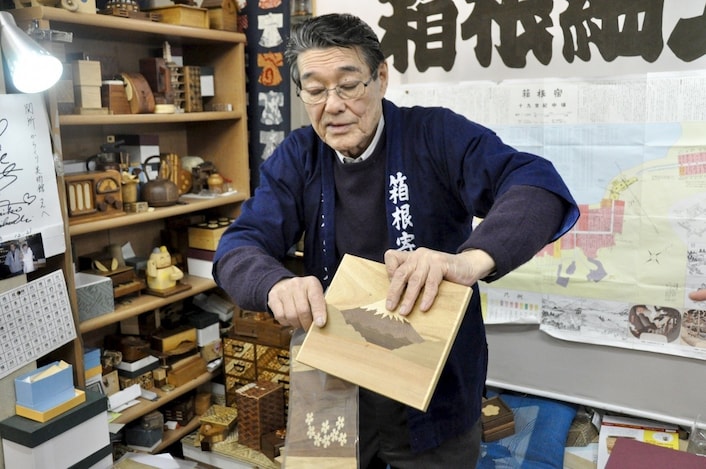 Even at 80, shop owner and master craftsman Teru Maruyama exhibits childlike joy as he shows off the mechanisms behind his creations.
Read More: Hakone Yosegi Zaiku: World of Woodcraft by All About Japan
An Inside Look at Hakone Marquetry
Any visitor to Japan has often run across this conundrum: you want to buy a souvenir for home, but everything that's for sale appears to be edible. Sure, there are some kitschy knickknacks, but they are generally pretty tacky. Then you come across some beautiful wooden boxes with some incredibly intricate patterns on it that make you wonder, how in the world do they do that?
Read More: An Inside Look at Hakone Marquetry by All About Japan